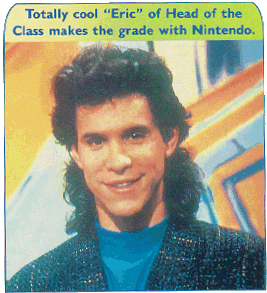 Welcome to the probably only annual Nintendo Congratulation! Awards. This is a special presentation that gives awards to Nintendo related stuff. For a lot of these things, it is the only opportunity they will ever have to actually win an award. Readers should also be warned not to take any of this too seriously, and children under the age of 12 are discouraged from reading since there are naked pictures of their mothers in most of the articles. Also, they grew up in the wrong decade and probably won't remember any of this crap anyway.
All nominees were carefully evaluated by myself and a number of judges. The judges prefer to remain anonymous, but I can guarantee that none of them are "Eric" from TV's Head of the Class. Also note that this page is in no way endorsed by "Eric," Nintendo, Sloppy Joe, or the Catholic church.
The judges were all selected for their keen observation abilities, lego building skill, and lack of anything better to do. That is why most of their decisions are completely uneducated, and often times, blatantly wrong.