NAVA = North Atlantic Videogame Aficionados. This is a FREE monthly event bringing gamers of all ages together for competition, trade, and chatter. There are always lots of games for trade and sale, and everyone is invited to bring their OWN games and systems to sell or trade.

Highlights:
Classic and contemporary game systems will be set-up around the store and available to play all day.

Meet the area's most prolific collectors! Bring some items to trade and strike a deal.

Rare and prototype items for trade and show.

Internet Gaming Center open for team play.

Classic Arcade Cabinets running all day.

Most events feature a 6pm tournament. Check with us a few days before the event for details.
Special guests who have appeared at the store for NAVA events:
James "The Angry Video Game Nerd" Rolfe - Infamous web personality who has used store products in his videos - and shot some of his video on location.

Garry Kitchen - Popular Activision, Absolute, Coleco and US Games designer known for masterpieces like Keystone Kapers, Pressure Cooker, Space Jockey and Donkey Kong for the Atari 2600.

Dan Kitchen - Popular Activision, Absolute, Acclaim and Majesco designer known for masterpieces like Crackpots on the Atari 2600, Kung-Fu Master and Double Dragon on the Atari 7800 and Bart vs. The Space Mutants on NES.

Rebecca Heineman - "Burger Becky" programmed the cult classic graphic adventure games Tass Times in Tonetown and The Bard's Tale III: Thief of Fate and also programmed the Mac, SNES and Apple IIGS ports of Out of This World, as well as many others such as Mindshadow, Borrowed Time, Battle Chess, and The Tracer Sanction.

Leonard Herman - Author of Phoenix: The Fall and Rise of Home Videogames and ABC to the VCS. A great storyteller.

Bill Kunkel - One of videogaming's first journalists, "The Game Doctor" from the 80's Electronic Games magazine.

Keith Robinson - Blue Sky Ranger and owner of Intellivision, known for his masterpieces Tron Solar Sailer, Thin Ice, and Spiker! for Intellivision.
Other things we'd like you to know:
We encourage guests to bring snacks and beverages. The store has a small refrigerator and several ice chests to keep frosty beverages frosty.
There's a regular core of attendees who love to trade and chat. Ask for John "CX2K", Joe "digitalpress", Rob "fergojisan", Frankie "Frankie_Says_Relax", Greg "Greg2600", Jeff "Kid Ice", Mike "killersquirel", Mike "Lucid Defender", Steve "NoahsMyBro", Rob "Rob2600", Frank "Scrimble", Alfonso "sonicteam", Scott "stonic", Mike "TonyTheTiger", Don "TV's Hasselhoff", Micky "Vectorman0", we'd be happy to introduce you around!
Admission is FREE. Half-price for kids!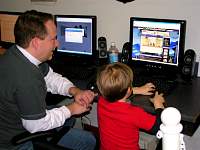 Where is NAVA held?
387 Piaget Ave (Rt 46 East)
Clifton, NJ 07011
The store is in northern NJ, a half hour from NYC and less than a mile away from exit 154 on the NJ Parkway. It's also less than 2 miles west of Route 21 and Route 20. Check the maps below for the fastest driving route.
If you need public transportation, try using this NJ Transit page and select Clifton as your destination.
When is NAVA held?
NAVA is scheduled every month, usually on the LAST Saturday of the month, and runs from noon until midnight. Holidays and scheduling conflicts sometimes alter the plan, so check the Events Forum for up-to-the-minute details. We always like to know who's coming, so feel free to drop us a note in the forum if you're planning to attend.
Looking for a place to stay? If you're a hot chick, you might win a night with John Hardie! Otherwise you may have to try your luck with the local hotels. Give this link a try, takes you to Google's hotel search page with the city pre-filled:
Click HERE to search for available lodging in the area
---
Questions about the next event? Check out the latest in the Events Forum, HERE.
---
To receive e-mail updates whenever a NAVA event is scheduled, as well as details on that event's specific theme, guests, or tournaments, please sign up for the mailing list, HERE.
---
Stay on top of all store events via Facebook, HERE.
---