Game information for "3-D Ghost Attack" - DP Online Rarity Guide
Game ID: 48695
Console / System: Atari 2600
Title: 3-D Ghost Attack
Scarcity (loose): 10
Value in USD (loose): 0
Scarcity (complete): 0
Value in USD (complete): 0
Publisher: Amiga
Section: 4
Designer: Jerry Lawson
Designer 2: Michael K. Glass
Developer: Video Soft
Style: Target Shooting "Gun Games"
Description: Originally planned as a pack-in cassette game for Amiga's Power Module peripheral. It was later planned to be 1 of 3 "3-D" games on Power-Play Arcade cart #1. Designed by Jerry Lawson, who also implemented the use of 3-D for all 3 games with traditional red/blue (anaglyph) glasses. 3 different prototypes exist, each a different level of the game. Unfortunately, none of the prototypes are 100% complete, but 2 are playable. Catalog description: "They say the mansion is haunted. But nobody really knows for sure. And you've just got to find out. Armed with your photobeam, you begin your search. Suddenly, there's a flash of light. Then another. And another. They're all around you, coming from walls, doors, windows, everywhere. You reach for your trusty photobeam. Now somebody knows for sure..." Discovered by Scott Stilphen in 2007 - 100 boxed (and numbered) copies were sold in 2010 under agreement with Jerry Lawson for $40 each. Price and scarcity reflect the original prototype, not the reproduction.
Landmark: Of the 3 companies known to have been working on 3-D games at the time, Amiga was very likely the furthest along.
Release date (MM/DD/YYYY): 2010
Country / region: USA
Web site: http://www.digitpress.com/library/videosoft/ghostattack.htm
Screenshot: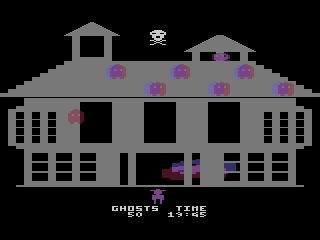 Screenshot 2: