Midway has done a fantastic job with their arcade-style hockey franchise, upgrading it every year with outstanding results. This year, the game has been re-worked extensively adding full 5-on-5 gameplay with a full set of NHL rules. This is a scary thought to those who enjoyed the fast paced, rule free gameplay the series is famous for. Never fear since Midway has appealed to every possible crowd and making what is, quite possibly, the best hockey game of all time.
NHL Hitz Pro is jammed with various modes, so many that it very well may take a few days to try them all out. First is the season mode, the usual 82 game NHL season. You can play through this with multiple players, having someone take control of every team in the league. Create-a-player, trades, free agents, salary caps, and loads of stat tracking are available. The franchise mode is a bit different than what most people may think. Instead of taking your team through multiple seasons, you'll create an entirely new team and take them onto the ice against other fantasy teams. You'll earn power-ups to make your team play better by completing pre-determined tasks assigned to you before the game gets underway. Win enough games and you'll roll right into the NHL. Then you can play an entire season with your new team.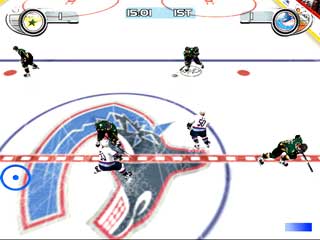 If the controls bother you, take a shot at the excellent training mode that features Scotty Bowman and some other NHL stars (in video form) teaching you about the game. If the actual ice isn't your style, try street hockey, roller blades and all. Sadly, you can only select from 2 teams in this mode, but slapping a ball into a telephone booth is still fun. You can also check out some DVD style extras as well.
Every aspect of the game can be edited to your liking. Not a big of fan of penalties? Turn 'em off. Think that goalie is just TOO good? Tone down his A.I. Don't like the opposing team poke checking you? Turn it down. There is very little in the game that can't be edited to your liking. Shockingly, turning down the speed a notch and turning on the rules gives you a simply superb game of real hockey with only the checking being a bit over the top. It's far more appealing than any of EA's recent efforts.
The smooth analog controls give the precision you need to pull of some spectacular moves. Excellent dekes, stick checks, shot blocks, and checks are all available when needed. You can also control were your shot goes into the net, but if this is too complicated, make it automatic. It's in the options menu.
On the ice, you'll be treated to some superb visuals and animation. The fine details are numerous from the water bottle that can be knocked off the net to the great scoreboard displays. Cinemas occur after every stoppage a play, something this generation of consoles has done so well. A lot of the animation is new so watching a guy get blasted through the glass has never looked more painful. Oh, and for HDTV owners, the entire package runs in progressive scan. Of course, I can't forget the fully polygonal crowd who will do the wave when you pause. They look great during the cinematics as well. They do cause a bit of a hit in the framerate and it causes you some grief, turn them off. It's all in the options.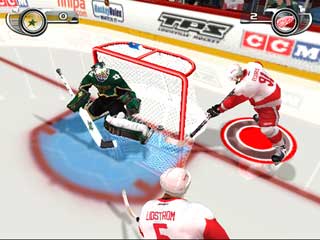 Tim Kitzrow is back this year for some play-by-play along with color commentator Harry Teinowitz. Their pre-game commentary is by far the funniest in the industry and the in game comments are great too. The arena music that plays is fully customizable which means that yes, your custom soundtracks can blare over the PA system during the game. Though it doesn't say so on the box, rest assured the entire game runs in full 5.1 Dolby Surround thanks to the XBox. You simply haven't lived until you've heard organ music in full-on surround sound. Of course, if you don't like any of this, turn it off in the options menu.
I don't know if there is a group of people out there who won't simply fall in love with this game. Anything about the game you don't like can simply be changed. Midway wasted nothing and pulled out all the stops to create the ultimate game of hockey. The only things missing are a full franchise mode and some type of season for that really cool game of roller hockey. This is a must own game and one that will age extremely well.