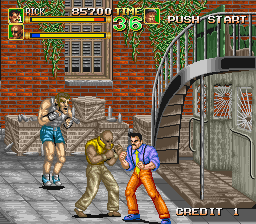 If I had known that detective work was like THIS, I can assure that I would've tried a different career path. Someway, these 2 "detectives" figure out a secret message in the classifieds section of the local paper and then suddenly have the authority to go out and beat down everybody they find. If only real life was like a video game....sigh.

64th Street: A Detective Story is a derivative brawler that borrows way too much from other games in the genre. It offers nothing to separate itself from other like games, but fans of games like this will find one play worthwhile. It doesn't play bad, but the pitiful boss battles knock this one down a few points. They are simply programmed to run, charge, and spin directly into the players. Afterward, they stay directly on top of you until your dead. Annoying is a kind way to put it.

One nifty feature is the ability to slam enemies into the backgrounds, destroying windows, boxes, doors, walls, and more. Not only is this cool to look at, but you can also be awarded with powerups for doing so. You have to question why a cooked chicken appears from a building inner wall, but when you need some quick health, you probably won't care. This is really the only thing that this game can offer as far as originality is concerned and it's only used sparingly in later levels.

The style of the graphics isn't unique at all and it's hard to believe that more couldn't have been done in this area. The enemies look is borrowed heavily from Final Fight (as were a lot of games from this time) and the main characters could've been taken from any other game from the same period. The slower of the 2 characters available is pretty much worthless with a limited reach and utter lack of speed so finding someone else to join in could be a problem.

In all honesty, there really is no reason for this to be in an arcade. With the limited detail on the characters, the SNES wouldn't have had any trouble playing this one. The music is also limited, repeating constantly throughout the stages. This is one for only the most hardcore beat-'em-up fans. Everyone else should pass.