ECTS 2001

by Jon White and Lee Furie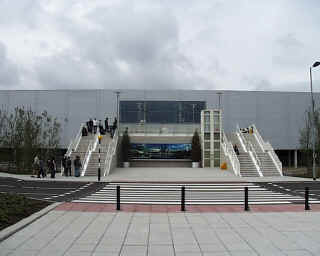 ExCeL Building
The Downward spiralin Europe ECTS dies on its arse.
Ah, another year comes and goes in Europe and so doesEuropean Computer Trade Show (ECTS) – our equivalent of E3 (USA). Well, theanticipation has been growing for the last couple of months as we waited for itto arrive, so when it did we all get up at 5am in the morning to make thegruelling 3 hour journey to London. Previouslyheld at Olympia, ECTS moved to London's latest state-of-the-art venue, ExCeL,which houses the show in an air-conditioned, pillar free environment.
FunCom Anarchy-online stand
Having gone for thelast 4 years (Jon, anyway) we were pretty excited. Last year we saw the GameboyAdvance, PS2 and a merriment of dancing girls (not that that is the only reasonto go), amazingly huge stands from Nintendo and Sony as well as some of the bigdevelopers like Konami. So with the launch of the Xbox and Game Cube in the nextmonth the excitement was even higher - the chance to see and hopefully play withthe next generation consoles.
Upon arrival, our firstimpression was that it seemed like a nice venue, a bit out of the way comparedto Olympia which is based in the central area of London, but bigger, so wewalked into the main lobby where they had 4 entrances for visitors to enter andregister. Having already registeredwe waited patiently for 10:00 when the doors officially opened to us.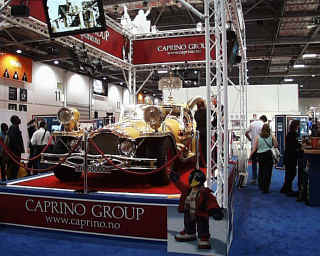 Some unknown game but it had a big car
Show time they let usin – initial impression as we entered the show area was that it seemed a bitbland, with hardly any of the monster-sized standsusually associated with this major European event.From previous shows everyone was trying to have a bigger, more elaborate standthan the person next to them. Not this time. They are pretty much all the same,no elaborate decorations hanging from the ceilings advertising there latestdevelopments… nothing! Fairenough. Maybe they have saved some money on that to show us all the latestgoodies on their stands, so we headed to a corner to do the flash run through tosee the big boys. Half-way through no-one yet. At this point I had become a bitworried. Maybe they are all on one side? Well, we reach the other side and noneof them are there either. No Sony, Microsoft, Sega or Nintendo, which is reallysurprising and disappointing especially from Nintendo and Microsoft with theirnew consoles coming out soon!
Logitech's stand
After thatinitial shock we decided to walk through slowly to have a look at what is beingdisplayed, at this point it steadily got worse:
Xbox publishers TDK andRage - just two of the many official partners of Microsoft's eagerly-awaitedconsole were demonstrating games at the show including Shrek, Inline Skating andGunmetal. Maybe they will have the machines! No. All of their footage is beingrun from DVDs and not a machine on site – although we did manage to see a Xboxdevelopment kit on another stand. it wasn't to be played with, however.
Game Cube was present,with Japanese developer/publisher Kemco unveiling "Batman – DarkTomorrow" and "Universal Studios" for the new Nintendo console.Note that these were the ONLY TWO Game Cubes that were seen at the entire show!Yes I said TWO.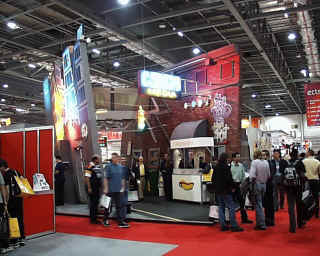 Look how busy it is
They had two machineswhich people could play "Universal Studios" on. So just imagine over1000 people all trying to have a go. You should get the idea. Even that was buta single section of the Back to the Future level. And Batman was yet anothervideo. Very, very disappointing, with such a major console launch looming inJapan, Nintendo should really have pushed this to get Europe chomping at the bitfor their new wonder box.
Just to give you an idea of how bad it was:
Show organisers CMP helpfullycompiles a list of the leading companies in the UK games market based on theireditorial impact in the UK media - basically a guide to their PR profile.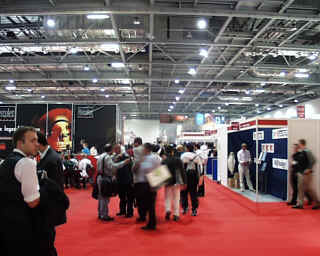 keep the crowds away - look bland
This is the top 10
Electronic Arts

Eidos

Nintendo

Sony Computer Entertainment

Sega

Activision

Take 2 Interactive Software

UbiSoft Entertainment

Microsoft

Infogrames
Out of the 10 only UbiSoft had a stand atECTS.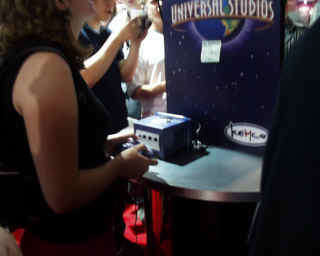 Managed to squeeze through quite a few people to get this shot of 1 of the 2 Game Cubes and Lee's right arm
Put it this way. Ittook us about 2 hours to walk around the whole show and see what was beingoffered and at that point you'd normally go back and look at things thatinterested you for a second or third time because you couldn't get enough thefirst time. That just didn't happen and we decided to head home so we couldget to the pub earlier and drown our disappointment.
In conclusion allI can say is that I wanted to come back and shout about all the new wonderfultoys/goodies we all had to look forward to in Europe but all this has shown meis the failing support of the Euro market. Are we being sidelined for someoneelse? Who knows, but it's a bad sign for the gaming market in general here atthe moment. Not only have we been shafted by the games industry who arereleasing games in Japan and America but not in Europe (PSOver.2 being the majorone for me) but the fact we get consoles 4-5 months after those two markets andthen they can't be bothered to show them off to whet our appetites! Lets justhope they don't forget about us on this side of the pond.
Maybe 2002 will bebetter but with a whole year to wait again, I think I'll start saving for mytickets to next year's E3, Space World or TGS (TokyoGames Show), whichshould be more interesting.


Return to Digital Press Home
Last updated: Saturday, April 23, 2005 07:48 AM