CES: The City on the Edge of Forever
"The Game Doctor" looks at almost a quarter century of the Consumer Electronic Show
Man but this column was a bitch to write.
Magnavox hired the famed Second City Comedy Troupe to perform a special, all videogame show. Many of the characters were named after game writers, as you might imagine.
I had set myself a simple assignment, I thought. While I haven't made an E3 in several years, CES is right here in Las Vegas, making it more difficult to avoid dropping in. I never actually do go, of course, but it's definitely harder rationalizing my absence.
This year, however, I had a perfect reason to be there – someone was paying me. I've been helping my old friends at Running With Scissors for several months now, turning out press releases and a monthly newsletter based around the new POSTAL II games, including the multiplayer Share The Pain add-on. RWS was coming to CES because a company called CXG (Cyber X Games), known primarily for the fact that the highlight of their previous show featured one of the attendees pulling a real gun on the owner's son, was providing them with a booth as an event sponsor.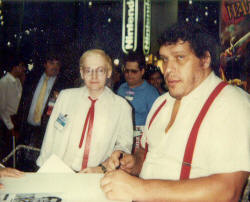 Bill sidles up to the late, great Andre the Giant for a short chat and an autograph. Nice thing about being press -- you don't have to wait in line.
Using the guerilla marketing tactics that we pioneered when the original POSTAL was released some half a decade ago, the company showed up with a massage chair, two hot-looking Postal Babes, local celeb Mercedes Zavalla and universal celeb Gary Coleman, along with yours truly, marketing maven Mike J and RWS boss man Vince Desi. The booth space was decorated with whips, chains, masks and other delights while the Postal Babes unzipped their jeans at the first glimpse of a camera to show off their Postal Thongs while Gary played relentlessly on the four-player LAN we had set up for Share The Pain and coldly refused to say "Whatchutalkinbout, Willis?" under any circumstances.
So my idea was this: contrast and compare today's CES with the shows of the 80s and early 90s, before they allowed E3 to simply walk away with the most lucrative segment of their exhibitor base.
But of course there is no comparison.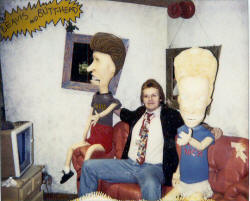 An editorial conference features Beavis, Kunkel and Butthead. Viacom offered to let Kunkel take home the set with him, but he declined, lacking the room.
My first CES was the Summer show in June of '81. In those days there was a Winter show (WCES) every January in Vegas and a Summer event (SCES) in the Windy City come June. I was there representing Electronic Games magazine. Alone. The only problem was there was no EG at that point – just an early version of the cover with some hype in big type printed on the back. So I would walk up to the pioneers of the video game industry and hand them one of these slicks and explain how we were going to do a magazine devoted to video, computer, hand-held, table top, coin-op and any other kind of game that plugged into a wall or ran on batteries.
Most of them would stare at me, obviously counting down the days until we issued a press release saying we had all gone crazy and would all be shooting ourselves.
The second show was easier – plus it was my first trip to Las Vegas, my future home. Not only that, but Arnie Katz and Joyce Worley were with me this time and best of all, we had issues of EG #1 to show around.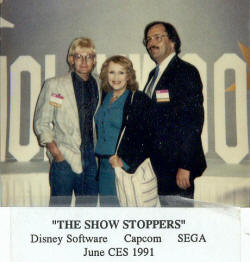 Bill Kunkel, Joyce Worley and Arnie Katz stand alone. What ever happened to that hair, Bill?
While there weren't many game companies at WCES in January of 1982, those that were there treated us like royalty.
Subsequent shows developed into a routine. The Chicago event was held in McCormack Center, a massive, squared-off structure, while Las Vegas' Hilton Hotel Convention Center was constructed around a rotunda, giving the halls a rounded nature. There was the square show and the round show.
Even though the game industry never needed two shows a year, they didn't dare miss a CES. And then, in the early 90s, many of them started to skip the Winter show. The January show was a bad idea for the games industry since it had no idea in January what it would be selling the next holiday season. As a result, the Vegas show was mostly used to brag about the great season everybody had just enjoyed (before the numbers were actually in) and hold expensive parties to prove it.
Bill Kunkel and the late, great Mickey Mantle pose with the late Jim Bender, EG's first ad salesman, and his then-wife who thankfully is still alive.
So how did it happen? How did CES let the Golden Game Goose get away? By being stupid. CES had several start-ups before it solidified with the emergence of the VCR and big-screen TV crazes around 1979. For whatever reason, it set up a policy that the companies that signed with them earliest would forever after get the best exhibit space.
By the end, the front of the big CES halls were packed with guys from Hong Kong selling telephones that looked like pianos or racing cars while the videogame companies – the guys who were drawing more and more of the interest and money in the consumer electronic field – were stuck out in circus tents in the parking lot.
E3 made a better offer – a show that was ALL games. And it was ALL over for CES.
This year, there was a failed LAN event (the CXG tournament was a complete fiasco – but a great place for RWS to get publicity since we had the only half-dressed women and the only legit celebrity) and I believe only two "game" products were unveiled. Both are PC-to-TV units that stand about as much chance of gaining a foothold in the market as CES does of getting back what it so easily gave away.
Bill and then-WCW wrestler Sting. Kunkel reports that many of those people standing in line for a photo and autograph thought it was going to be the musical Sting and were fairly cheesed off by what appeared to be Tab Hunter in facepaint with a jacket purchased at a Michael Jackson garage sale.
Oh sure, there are plenty of plasma TV screens and DVDs, but CES will never again be the Worlds Fair of Electronics.
Those were the days.